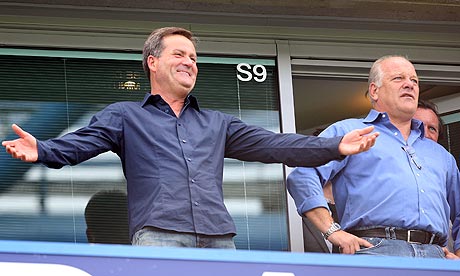 Superb coverage and analysis in The Guardian today over the sacking of Andy Gray – the Sky Sports football pundit who was recorded making disgusting remarks 'off-air' about a female match official and lewd 'banter' with a female co-presenter.
It's clear that he and Richard Keys were both disliked within the production team, and someone has done the right thing to bring about their downfall. As one anonymous female member of the team put it:
There are many stories of their shocking behaviour. [Gray and Keys] are hated by the crews. It's a climate of fear pervading. But as long as everyone is laughing and it's a joke it's all right isn't it? I believe sexism is systemic and not openly challenged but goes underground or disguised as jokes or 'just banter'.
And another:
Live football is well known as something everyone wants to work on. But no one wants to work with those two. They took the piss out of a runner for having no money. It's nasty bullying with an edge. It's not just banter.
Some comments I've heard have argued that this is ridiculous, and that if the same comments were made by women about men then there would not be the same level of outcry. I think this missed the point entirely. Men are in a position of huge power within sport, and within football in particular. And the work to bring equality to this arena is tough – it's going to be hard to break the culture that has pervaded the sport for so long. So there has to be harsh action taken when prehistoric bigots make remarks like this because these men are already in positions of huge influence. If women made similar remarks it might be equally wrong, but they don't carry the same symbolic power because women are unlikely to be doing so from places of influence. If they were, then yes, they would have to suffer the same harsh penalties.
I particularly like the response from Ship of Fools today though:
Andy Gray, the Sky Sports commentator who has been sacked for making sexist remarks about a female assistant referee, is to be received into the Ordinariate, a Vatican spokesman has announced.
Pitch perfect again.


--//--


Click here to receive updates, and hear first about new projects