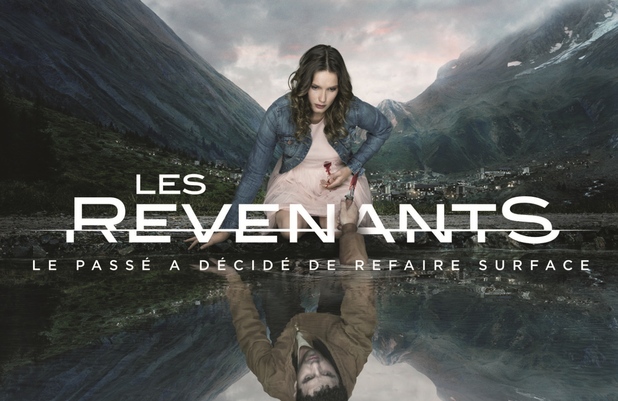 I've been really enjoying The Returned – a French thriller currently airing in the UK on Sunday evenings. (Watch the latest episode here.) It concerns the (apparent) return of some young people to a small town in the Alps, some 10 years after they had died. Giving lie to the easy words 'I wish they would come back' the returns these people each make back into the lives of parents, one-time lovers, siblings and friends cause huge ruptures. Joy is tempered by fear. Wounds are re-opened.
In one scene in Sunday's episode, Adele, whose one-time fiancée Simon comes back, goes to see the local priest. He is about to conduct Adele's wedding to another man – the local chief of police. She confides in him that she has 'met' Simon, and is concerned that the manic episodes that she suffered after Simon's death are returning.
The priest is understanding, and says
"I believe that people we have loved continue to live within us… It's very important to be at peace with ghosts."
He then encourages her to engage Simon when she sees him again, and speak to him.
All of which is by way of introduction to saying that the show, resonating with some other things (including these two posts by Peter Rollins and some research into a new novel that draws quite heavily on the life of my great-grandfather), has left me thinking quite a bit about ghosts recently, in the same way that magic struck me at the end of last year.
Magic, as I explored in After Magic, functions in a space where we suspend our disbelief. This is very different to belief in magic – it is about allowing oneself to take what magic has to offer in the space within which it presents itself. In a similar way, I want to say that I don't believe in ghosts… but I believe in ghosts. That is to say, suspending disbelief in ghosts actually allows them to function so that the gifts they bring can be engaged with, without the horror of actual belief.
I remember as a young teenager going on a youth camp, and us all sitting up telling ghost stories. What were we trying to do? Clearly, none of us actually believed in ghosts, but the suspended space that we created allowed ghosts to speak to us: they allowed us to examine our deepest fears and horrors, and these were the subjects of the stories.
Ghosts speak what has been too-long left unspoken. Ghosts are not the undead, they are the unsaid.
I grew up with a lot of spirit-talk, surrounded by ghosts and demons. I spent the first 8 years of my life living with a graveyard as the extension to my garden, just through a gate from the vicarage where I lived. It was a time when a lot of the adults around me were going through 'charismatic renewal'… God's spirit was moving powerfully through them… Which, for me now, looks a lot in retrospect like a form of suppression release. Tombs were being opened, dead spirits speaking. And yet, framed in Anglican Christianity, there was still this 'stiff upper lip' suppression to this release.
Which is to say that ghosts began moving, but were not necessarily heard out. Demons, those ghosts that have suffered even more than others, sometimes shouted and writhed, convulsed and screamed, and found some kind of settlement… But not all did. Fears still remained, superstitions still held power.
Perhaps the real problems come when those to whom ghosts wish to speak will not engage. What I've been reflecting on recently is how, in some ways, I am haunted by other people's ghosts. And these spectres, if one is not careful, begin to make demands on you, demands that, actually, you cannot speak to because you don't know intimately enough the fear and pain that has given rise to them.
So my question is this: how does one deal with other people's ghosts? Hungry spectres that have been shunned for generations?
All of this can be read from a psychoanalytic point of view of course (Jung himself was heavily involved in paranormal exploration), but what I've loved about The Returned is that it has put these questions back into the language of ghosts and haunting, something that is so ancient and archetypal.


--//--


Click here to receive updates, and hear first about new projects