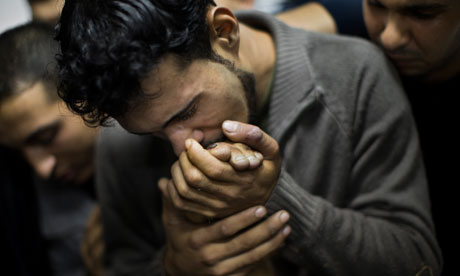 In a previous post examining some of the its psychodynamic roots, I suggested that the current tragedy in Gaza is, in fact a religious conflict. But not because three faiths are somehow at war over doctrine. This is not a war between religions, but a war created by religion. I want to expand on that slightly.
There has been a view, popularised by some perhaps ill-chosen words from the Bush administration post 9/11, that the conflict in the Middle East is a front line in the war for domination between Christianity and Islam. Judaism is not a proselytising religion, so has no interest in dominance, but versions of American right-wing Christianity have interpreted certain apocalyptic texts to suggest that the future of the whole of mankind, heaven and hell, depends on certain things surrounding Jerusalem and the Temple etc.
In other words, there is no conflict between Judaism and Islam. Rather, certain Christians need Judaism as a dog in their own fight. And that's why the US – with powerful lobbies from both Judaism and right-wing Christianity – are unquestioning in their support of Israel. Ugly, huh?
But this is not the point I think that needs making. The inter-religious issues around Jerusalem as a place do create genuine socio-geographic issues to do with partitioning of land, given that two-state solutions are the only game in town at the moment, for right or wrong. But beyond that, it is the very fact of religious belief that is sustaining this conflict in the first place.
With the creation of the Big Other – a divine figurehead who might be Allah or Jahweh – those on all sides are able to extrapolate their convictions into some heavenly, infinite realm. They can then co-opt this god to their side, which has a number of advantages:
Huge sacrifices can be called for, because a god in heaven will reward them in the afterlife.
Huge crimes can be committed, because a god in heaven has an iron will to be followed, which trumps human laws and morality.
These great crimes can be forgiven by this god, so it matters not much anyway.
With god on their side, victory is certain.
Zizek has noted that Dostoevsky's assertion that 'if God doesn't exist, then everything is permitted' is thus reversed: it is precisely because a big Other is deferred to, or followed blindly, that everything, every crime, can become permitted.

And this is the core problem in this conflict: there are differences in political opinion, but these are projected onto the infinite scale of the big Other. This means that people are not considering one another's humanity, but rather their status in a spiritual realm: infidel, devil.

The removal of the big Other immediately deflates these abysmal views, and returns the gaze to the human beings involved: children, families, people desperate for normality. A religious war can only be sustained by remote weaponry: air strikes and rocket attacks. To have to fight your enemy hand to hand is to risk the combatants actually meeting one another's gaze, and refusing to fight.

Ironically, the outbreak of peace in Northern Ireland came because people were fed up of the economic material costs. The big Others – the horrific projections of Catholics and Protestants – could not be sustained in the ways they once were. Life was too short, too precious to waste on this.

And this is perhaps the tragedy of the wars fought over religion – and those sustained by religious belief: so many lives are sacrificed. And for what? So the radical theological move towards peace is, paradoxically, a move to destroy religion and emphasise radical materiality. In other words: perhaps life is only sacred if there is no afterlife.


--//--


Click here to receive updates, and hear first about new projects