'The Referee's a W*nker!' | Sport and Divine Violence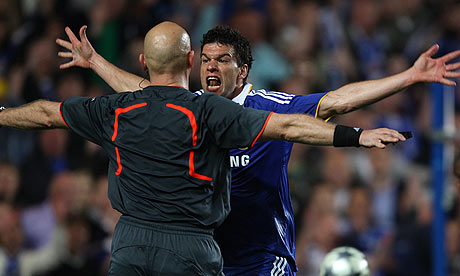 April is the cruelest month…
Easter always coincides with the culmination of the football season in Europe, and a number of things have been leading me to think about the nature of sports and games and their connection to aggression and violence. Enlightened religion is very big on peace and harmony, but I've begun to question the extent to which it is a worthy goal to eliminate all confrontation and aggression from life. Which is to say: will there be competitive sport in heaven?
I will (hopefully) be playing football this evening. I say hopefully, because my ankle has been in a bad way since someone went in heavily with a nasty tackle a few weeks ago, and I'm still not sure it's right. Actually, it's a very good natured game in general, but it is competitive – people want to win, and for the duration of the game those on the opposing team are the enemy. It is a very temporary enmity though, one that actually serves to increase the sense of community among those of us who play, who all have a history with one another of wins and losses as the teams are so regularly mixed up.
I'm strongly of the opinion that sport and competition are deep parts of what it means to be human. I blogged a few years ago now about Konrad Lorenz's book On Aggression, in which he argues that we have escaped the problem of constantly killing one another by ritualising aggression. We see this in animal plumages and tribal gift cycles, and we also see it in sport and games. The highly plumed and extravagantly paid sports stars are an evolutionary anomaly: driven into over-exuberant displays of feathers by the pressures of needing to strut better than the rest. But the naked aggression we see on the football terraces is also part of this ritualised aggression.
I was talking to a friend recently, swapping stories of recent matches we had been too. The language is terrible, the chants sometimes darkly humorous and sometimes grotesquely offensive. But I defy anyone to go to a game and not come away feeling that they've had a strong dose of communitas.
In all games there is something hugely enriching about enjoying a temporary war with someone else. Whether that be Monopoly or World of Warcraft, we are beings who enjoy opposition. I recently went to the World War 1 graves and battlefields in Belgium and this came across very very strongly: men signed up to come to the trenches not to serve God and country, but because war was exciting, and they and their 'pals' could be well fed and have a great adventure. That was ultimately an enormous tragedy: they were led to their deaths by ignorant and stuck-up aristocratic rulers, but they did so willingly because of this basic human desire to compete.
Given that it is such a deeply set human emotion, can we suggest that whatever 'heaven' might be, it can't be a place where all aggression and competition has been eliminated? Will no one be able to get a pick-up game of football going, jumpers for goal-posts, in case that spilled over? I think we lose something in our humanity when we try to eliminate – or suppress – our natural and healthy aggressions. We need to enjoy opposition, and affirm that relationships are enriched by participation in conflict.
I'm reminded of a story Pete Rollins tells about two rabbis who are arguing constantly over some interpretation of Jewish law. They rant at each other and the debate goes heatedly back and forth. Eventually God tires of this and comes and stands between them. 'I'm fed up of you two arguing over this,' he says. 'I'm going to tell you the correct interpretation.' The two rabbis look at God, and then one another, and then both turn on him: 'who are you to come down here and tell us what is right?' they shout, and get back to their argument.
This is the same dark humour that causes both sets of fans at a match to unite at times and chant together: the referee's a wanker! And is there not something of the passion in here too? Gathered around the cross were sworn enemies: Romans, Jews, Zealots, thieves – all of whom came together for a moment, forgot their opposition and united in cursing God together.
Holy Week shows us the paradoxes of violence and aggression. It is in all of us, and yet we need not let it rule us. Good sport is aggression ritualised and sanctified. My worry is that the denigration of sport by theologians means we are left confused about appropriate ways of expressing our very human need for opposition, and thus perhaps turn to theological argument and schism – or worse – instead.